Find The Hottest Dutch Flavors On The Market Today
If you smoke Dutch Masters and would like to know all the best-selling Dutch flavors out now, then check our list below! Here at Buy Pipe Tobacco, we sell everything mentioned here today! So if we talk about it, we got it, no teasers!
Plus, we're more than just an online tobacco retailer, we're also a real smoke shop serving the public for over 50 years! However, if you don't live in the Cincinnati area, then our online store is your best option. We'll explain why at the bottom of this post, so make sure you catch that at the end.

Going forward, we plan to share everything we know about this iconic cigar & cigarillo brand, including its history, best-selling flavors, and how you can easily order them today! Please keep in mind though, you must be 21+ to buy tobacco online, no exceptions, we ID.

With that out of the way, it's now time to discover everything about Dutch Masters! As we all know, most people smoke Dutches with their herbs, although this brand still has a large fan base of smokers who burn these cigars straight up!

So regardless of what type of Dutch smoker you are, please note, our best-sellers list is based on real-time data collected here in our store and among every tobacco retailer online! In other words, we didn't just choose these Dutch flavors, y'all did, we're just sharing the data!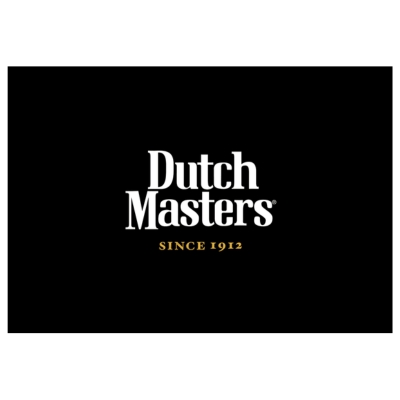 The History of Dutch Masters and Its Flavors
Dutch Masters is a renowned brand of cigars, originating in the United States in 1912. The brand was named after the famous Dutch painters to reflect its commitment to quality and craftsmanship. Over the years, they've introduced a variety of flavors to cater to diverse consumer preferences.
Dutch Masters Palma is the most popular flavor and is known for its distinctive blend of smooth, mild tobacco rolled in natural leaf wrappers. The Palma flavor offers a unique, satisfying taste that appeals to both new and seasoned cigar smokers. It's the brand's signature flavor, often associated with a creamy, slightly sweet, and rich tobacco taste. If you know you know!
Over the years, this cigar brand continues to innovate while maintaining the quality and consistency that has made it a favorite among cigar lovers, worldwide. If you're interested in learning more about the History of Dutch Masters, Click Here for more info.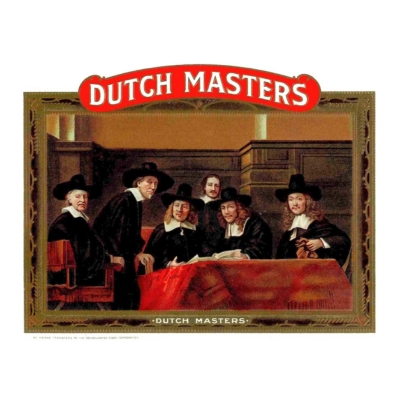 Discover Dutch Leaf Cigars and Current Flavors
Introducing Dutch Leaf cigars, renowned for their rich taste and slow burn. These premium cigars, wrapped in a 100% natural leaf, offer a smooth, natural smoke. They come in three flavors including Ripe Berry, Pure Tobacco, and Real Sweet, each delivering a unique taste profile.
At Buy Pipe Tobacco, we offer Dutch Leaf in a rare 30-Pack Box, with each box containing 60 cigars (2 per pack). Currently priced at $31.09, but always check our site for the latest pricing. Each pack also offers a resealable pouch, preserving freshness. Experience the new natural with Dutch Leaf cigars today!
| Dutch Leaf Flavors | Rating | Flavor Description | In-Stock | Buy Now |
| --- | --- | --- | --- | --- |
| Ripe Berry | ⭐⭐⭐⭐⭐ | Fruity, Berry, Sweet | Available | Buy Now |
| Pure Tobacco | ⭐⭐⭐⭐⭐ | Rich, Smooth, Classic | Available | Buy Now |
| Real Sweet | ⭐⭐⭐⭐⭐ | Sweet, Smooth, Mild | Available | Buy Now |
Top 10 Best-Selling Dutch Flavors
Introducing the much-anticipated Top 10 Best-selling Dutch Flavors available exclusively at Buy Pipe Tobacco! With unbeatable prices and nationwide shipping, our online store offers a premium selection of tobacco blends to satisfy every smoker. Explore our collection of Dutch flavors and don't forget to put one in the air for us!
Our Top 10 Dutch Flavors cater to diverse preferences. So if you crave a smooth, creamy smoke or a full-bodied experience, our curated selection has something for everyone! Shop online, benefit from rock-bottom prices, and have your order promptly shipped nationwide. Indulge in the finest Dutch flavors, all of which are listed below!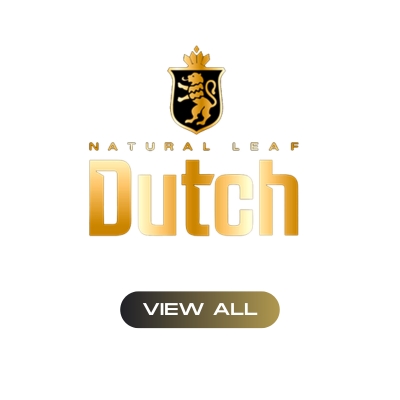 Dutch Masters Palma
The top-selling Dutch Masters Palma, aka, the Vanilla Dutch, offers a smooth and mellow smoking experience with subtle hints of earthiness and a touch of sweetness, making it a favorite choice among our customers. Now available in 20-pack boxes with three per pack, 5-pack boxes with four cigars (full-size, foil-wrapped) per pack, and our large 55-count box of individually wrapped Palmas.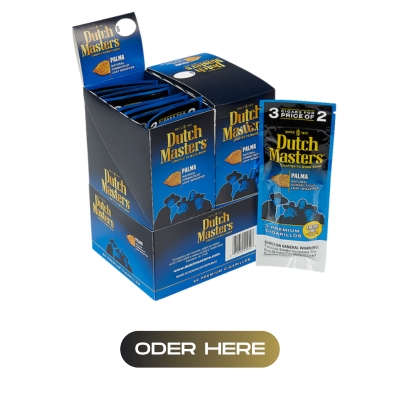 Dutch Masters Honey Fusion
A crowd-pleasing blend, Dutch Masters Honey Fusion combines the natural sweetness of honey with the richness of tobacco, resulting in a delightful flavor profile that is both smooth and satisfying, securing its place as one of our best-selling flavors. Sold in a 30-pack box of 2, includes 60 cigarillos in total.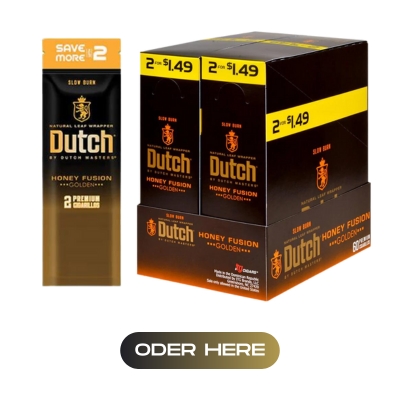 Dutch Masters Berry Fusion
Bursting with the luscious taste of ripe berries, Dutch Masters Berry Fusion is a fruity delight that captivates the senses. Its irresistible blend of juicy berries and premium tobacco makes it a popular choice among our customers. Also, sold in 30-pack boxes with two cigarillos per pack.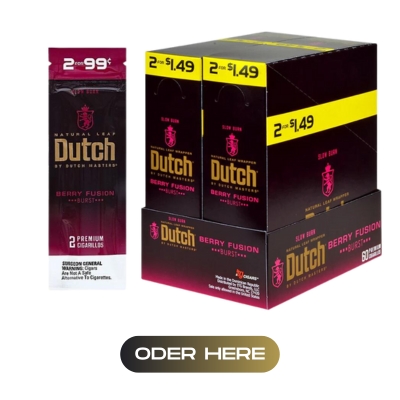 Dutch Masters Irish Fusion
A sought-after flavor, Dutch Masters Irish Fusion combines the warmth of Irish whiskey with the richness of tobacco, creating a harmonious blend that delivers a captivating and unique smoking experience, earning its spot on our best-selling list. As with all Dutch Fusion cigarillos, these too are available in a 30-pack box!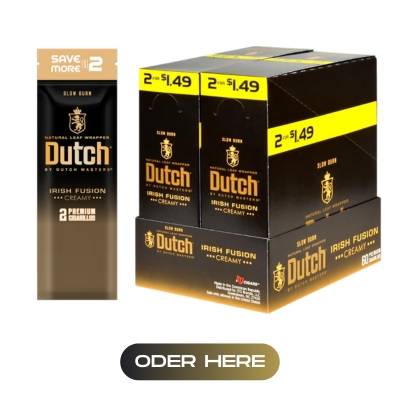 Dutch Russian Cream
Experience the smooth and indulgent flavor of Dutch Russian Cream, where the distinctive essence of creamy vanilla and a touch of sweet caramel intertwine with the richness of tobacco. This uniquely satisfying blend has become a popular choice among our customers, earning its well-deserved spot on our best-selling list. Now sold here in 20-pack boxes with three cigarillos per pack (60 total).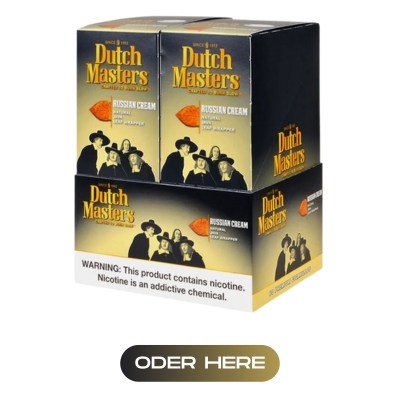 Enjoy the sweet and smooth aroma of Dutch Masters Honey, a classic flavor that is always in high demand. The balanced infusion of honey into the tobacco offers a satisfying smoking experience that continues to attract customers. We now sell Honey Fusion cigarillos in a 30-pack box of two, and a 5-pack box of 4 of the Honey Sport Dutches.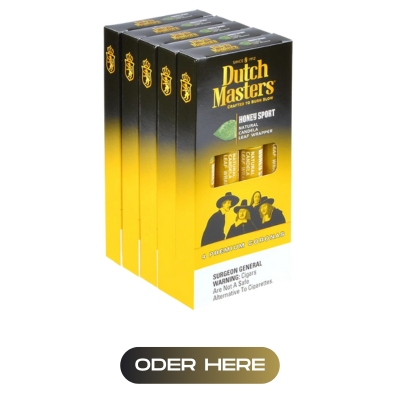 Dutch Masters DeLuxe
Elevate your smoking experience with Dutch Masters DeLuxe, a flavor that exudes sophistication and refinement. With its expertly balanced blend of premium tobacco and hints of warm spices, this exquisite choice has captivated our customers, securing its position as a top-selling favorite. Purchase a 20-pack box of three (60 cigarillos) here today while supplies last.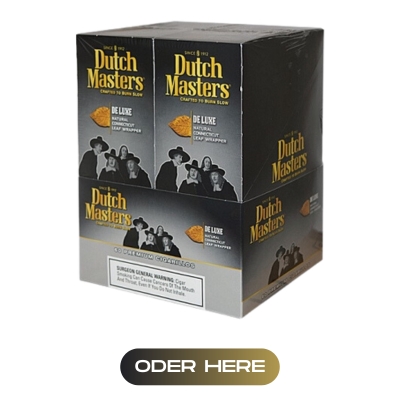 Dutch Masters Chocolate
Satisfy your cravings with Dutch Masters Chocolate, a decadent flavor that combines the essence of rich chocolate with premium tobacco. Its irresistible and smooth taste has made it a beloved choice among our customers, securing its position as a top-selling flavor. This is one of our personal favorites, now sold in a 20-pack box of three!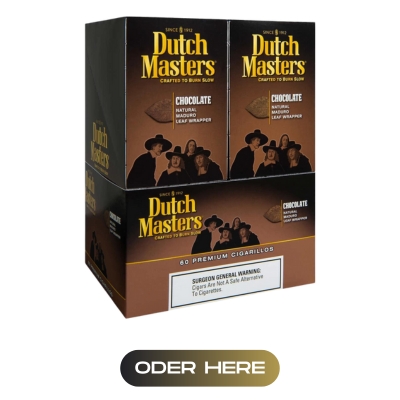 Dutch Masters Java Fusion
Immerse yourself in the enticing allure of Dutch Masters Java Fusion, where the bold and rich flavors of robust coffee merge with the smoothness of tobacco. This captivating blend has garnered a dedicated following, positioning itself as one of our best-selling choices for those seeking a distinctively satisfying and aromatic smoke. Buy today in a 30-pack box of 2 (60).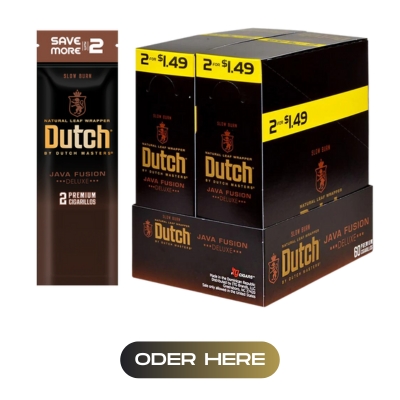 Dutch Masters Green Leaf
Experience the unique and visually striking Dutch Masters Green, crafted with a natural Candela green leaf wrapper. This flavor offers a subtle and smooth smoking experience, with the leaf wrapper imparting a mild and slightly sweet taste, making it a distinctive choice among our customers and earning its place on our best-selling list. Order a 20-pack box of three (60 cigars) today!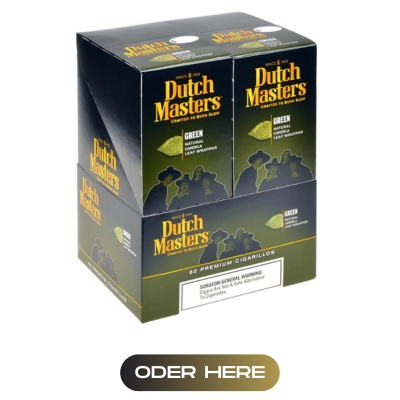 Buy Your Dutch Flavors Here at Buy Pipe Tobacco – Here's Why
In conclusion, when it comes to ordering Dutch flavors online, we stand out as the ultimate destination. Our commitment to providing unbeatable prices ensures that you receive the best value for your money, making us the top choice in the country! Moreover, our state-of-the-art temperature and humidity-controlled storage and shipping facility guarantees that every product arrives fresh and full of flavor, enhancing your smoking experience, every time!
Not only do we offer swift delivery, with most products arriving at your doorstep within 1-3 business days, but we also provide a seamless payment process with multiple options to choose from. Plus, our exceptional customer service, available through phone or email, ensures that any inquiries or concerns are promptly addressed by our knowledgeable team. At Buy Pipe Tobacco, we strive to make your shopping experience convenient, informative, and enjoyable.
We hope that this blog post has served as a valuable resource for discovering the best-selling Dutch flavors on the market. We invite you to leave a comment below, sharing your thoughts and letting us know your favorite flavors. Thank you again for joining us today, and we look forward to providing you with exceptional products and service for all your tobacco needs.
| | | | | |
| --- | --- | --- | --- | --- |
| Dutch Flavors | Rating | Flavor Description | In-Stock | Buy Now |
| Dutch Masters Palma | ⭐⭐⭐⭐⭐ | Rich, Smooth, Classic | Available | Buy Now |
| Dutch Masters Honey Fusion | ⭐⭐⭐⭐⭐ | Sweet, Honey, Smooth | Available | Buy Now |
| Dutch Masters Berry Fusion | ⭐⭐⭐⭐⭐ | Fruity, Berry, Sweet | Available | Buy Now |
| Dutch Masters Irish Fusion | ⭐⭐⭐⭐⭐ | Creamy, Mint, Smooth | Available | Buy Now |
| Dutch Russian Cream | ⭐⭐⭐⭐⭐ | Rich, Creamy, Sweet | Available | Buy Now |
| Dutch Masters Honey Sport | ⭐⭐⭐⭐⭐ | Sweet, Honey, Mild | Available | Buy Now |
| Dutch Masters DeLuxe | ⭐⭐⭐⭐⭐ | Original, Pure, Mild | Available | Buy Now |
| Dutch Masters Chocolate | ⭐⭐⭐⭐⭐ | Rich, Chocolate, Sweet | Available | Buy Now |
| Dutch Masters Java Fusion | ⭐⭐⭐⭐⭐ | Coffee, Bold, Sweet | Available | Buy Now |
| Dutch Masters Green Leaf | ⭐⭐⭐⭐⭐ | Natural, Mild, Sweet | Available | Buy Now |