Discover All The Best Backwoods Flavors Including Where To Buy Online
Now discover all the best Backwoods flavors currently available for purchase in the United States. As one of the most sought-after cigar brands in 2023, Backwoods have marked a significant footprint in the smoking culture. Thus, it's worth acknowledging their unique craftsmanship, natural wrappers, and most importantly, all the diverse flavors.
Nevertheless, with this brand's ever-expanding range, the choice may seem overwhelming. Therefore, we've taken it upon ourselves to ease this journey for you! Indeed, we'll be your guiding light in exploring the finest and best-selling Backwoods flavors this year. Also, discover the newest flavors just released this year!
Ultimately, our aim is to ensure that every puff you take leaves a memorable imprint. Consequently, this blog post will be your roadmap to the most coveted Backwoods cigar experiences. So, sit back, relax, and prepare to discover the best of the best.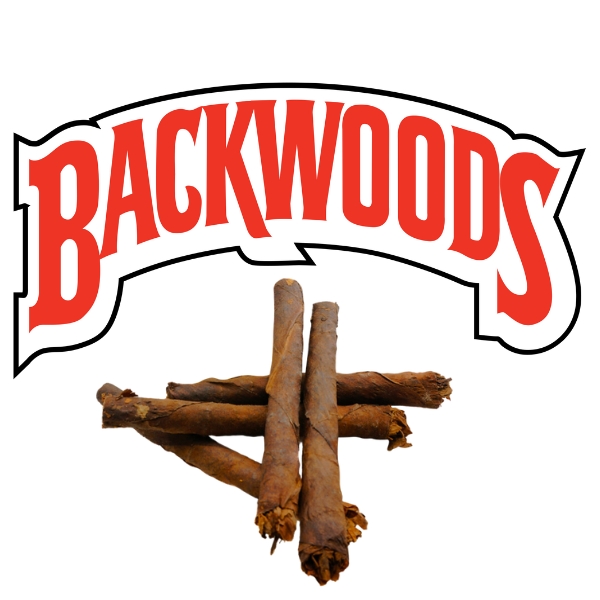 The True History of Backwoods Cigars
Before we reveal all the best-selling Backwoods flavors, we first want to share with you the true history of this iconic brand.

The history of Backwoods Cigars is as rich and intriguing as the flavors they offer. Originally launched by Altadis U.S.A Inc. in 1973, Backwoods was born from a desire to cater to cigar smokers' growing appreciation for a more natural experience.
Initially, the brand aimed to replicate the traditional 'backwoods man' cigar – hand-rolled, rustic, and unpretentious. Hence, the name 'Backwoods' was coined, reflecting the spirit of an outdoor, uncomplicated lifestyle.
The key defining characteristic of Backwoods lies in their use of all-natural tobacco and an unconventional 'petite corona' format. Essentially, the cigars are distinguished by a tapered body, a frayed end, and an unfinished head. This design was groundbreaking at the time, contrasting sharply with the more polished, metropolitan cigars on the market.
Then, there's the matter of flavor. From the onset, Backwoods was innovative in introducing cigars that were not only naturally wrapped but also flavor-infused. This was a bold move, and the bet paid off. These flavored cigars were a hit, providing an unparalleled combination of rustic charm and unique flavors.
As for their rise to fame, it can be attributed to several factors. Firstly, the brand's marketing was on point, resonating with a wide audience craving authenticity. Secondly, Backwoods capitalized on the popularity of natural leaf cigars, their flavors hitting the sweet spot between novelty and tradition.
Over the years, Backwoods continued to innovate, releasing new flavors and limited editions, always staying a step ahead of trends. Today, their status as America's #1 favorite natural leaf cigar is a testament to their unyielding commitment to quality, authenticity, and consumer satisfaction.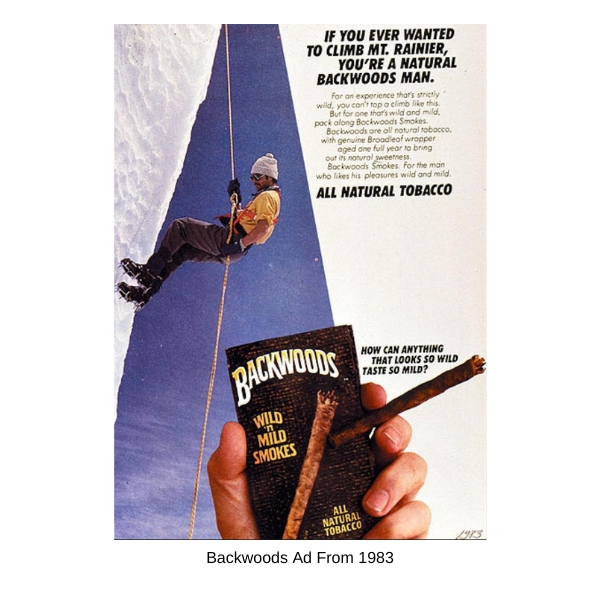 The Best-Selling Backwoods Flavors In 2023
Now, for the moment you've all been waiting for; the best-selling Backwoods flavors of the year! With nearly 50 years in the tobacco business, we've got a lot of data on this subject, and now we're going to share it all with you.

Not to mention, we sell all Backwoods Cigar flavors here at Buy Pipe Tobacco. Therefore, when it comes to what's hot and what's not, we've got a leading jump in the matter! That said; let's dive into all the top-performing flavors so that way we can put this one in the air and watch the smoke swirl.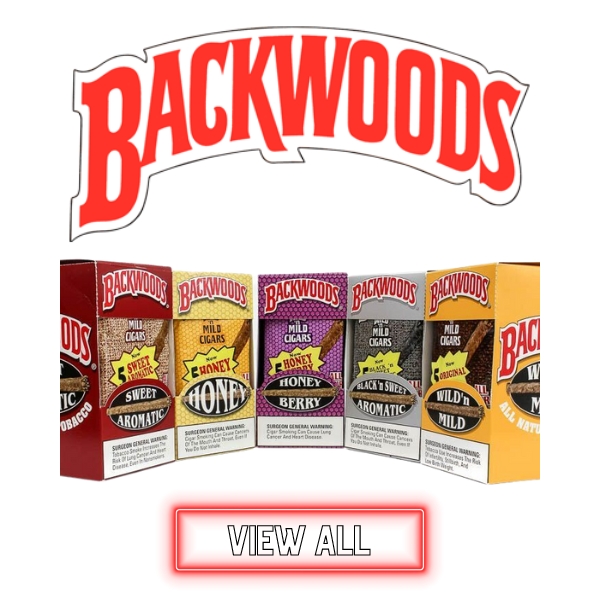 Banana Backwoods
Experience the much-anticipated Banana Backwoods, the latest sensation in the smoking world. This European exclusive has finally landed on American soil, and it's taking 2023 by storm! We currently offer this popular flavor here at Buy Pipe Tobacco in an 8-pack box! Each sealable foil pack comes with five cigars, giving you a total of 40 cigars per box! To view prices and order, simply click the image or button below to secure your Backwoods today!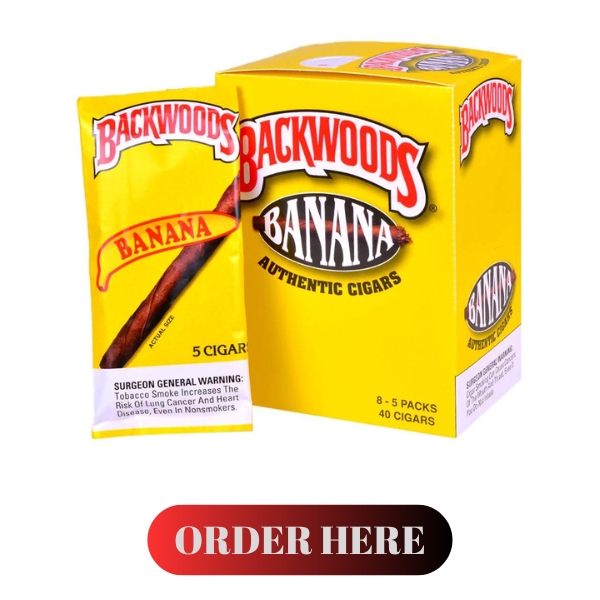 Russian Cream Backwoods
Hands down, Russian Cream Backwoods are the second best-selling Backwoods flavor this year! In fact, before the arrival of the Banana Woods, this flavor was the #1 best-seller for nearly three years! Currently, Russian Cream offers three package options to select from.
8-pack case – This option includes 8 packs with 5 cigars per pack, 40 in total.
24-count case – Includes 24 packs with 1 cigar per pack.
10-pack case – Comes with 10 packs with 3 cigars per pack, 30 in total.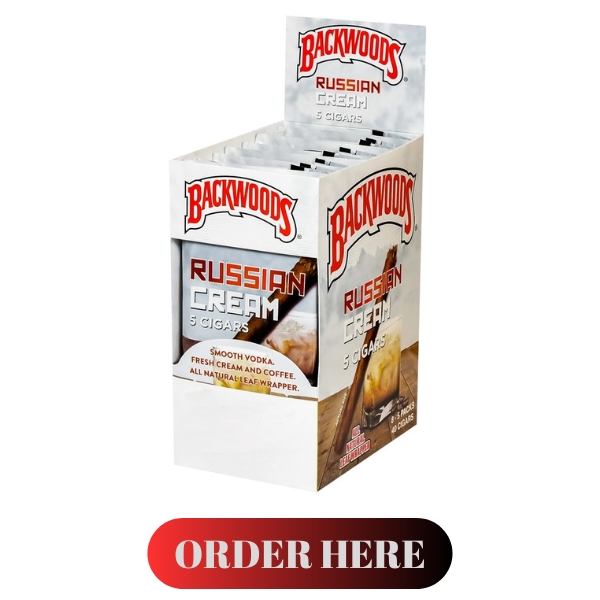 Vanilla Backwoods
Vanilla Backwoods are the lasted flavor to hit the US market this year, and they've been nothing less than impressive! Honestly, we think this Backwoods flavor will soon replace Banana for the #1 spot soon! This is another flavor that was once only available in Europe, but as of early 2023, they were finally made available to smokers in the US. You can now buy Vanilla Woods here at Buy Pipe Tobacco in an exclusive 8-pack box (40 cigars) for cheap! Plus, we ship nationwide, delivering this iconic flavor straight to your doorstep in 1-3 business days!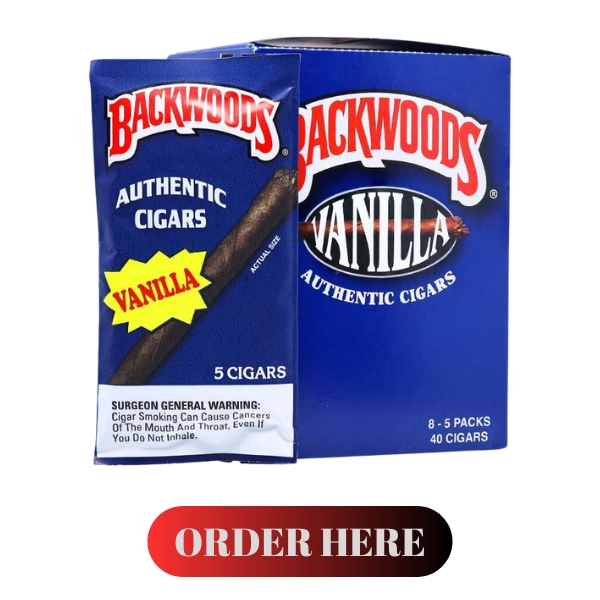 Honey Backwoods
As for Honey Backwoods, they're the fourth best-selling Backwoods flavor currently available now! This authentic-tasting flavor has been on the market for several years and doesn't seem to be falling off anytime soon! You can now buy Honey Woods in three bulk-size options including the 8-pack case, the 24-count box, and the 10-pack case! To bring home the honey, simply click the image or button below to secure your order today! Free shipping is included with all qualifying orders; so the more you buy, the more you save!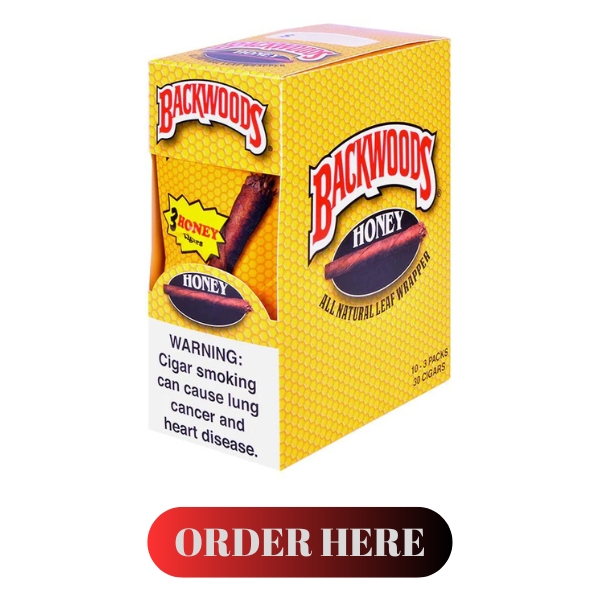 Original Backwoods
Original is now the 5th best-selling Backwoods flavor currently being sold in the US. Once #1, Original Woods are still just as popular as ever; however, it's now safe to say that flavored cigars are more popular nowadays! As with most of our Backwoods Cigars, this flavor comes in three package options! To find out which one is best for you, click the image or button below and we'll instantly direct you to our product page where you can boss up and place your order!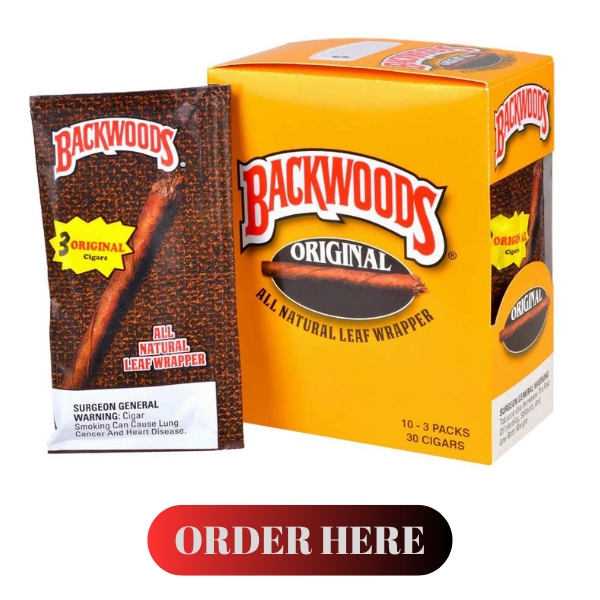 Honeyberry Backwoods
Next up on our list of best-selling Backwoods flavors is Honeyberry! This long-standing flavor is a true testament to the brand's choice of flavors. Indeed, this is one of the first flavors launched by Backwoods in 1973, proving its popularity is more than just a fad, it's a statement. So if this is your favorite flavor and would like to save money buying them, click the button below and take advantage of fast nationwide shipping! Now available in three package sizes.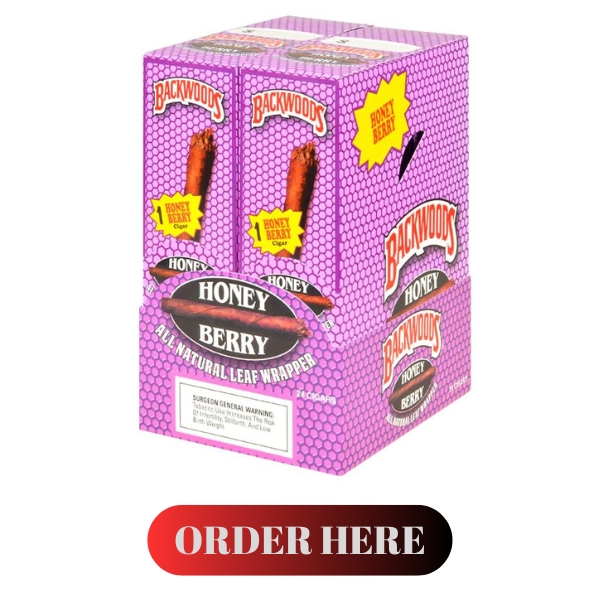 Honey Bourbon Backwoods
Launched in 1981, Honey Bourbon Backwoods is another iconic brand flavor that continues to dominate the charts! As a top seller for over 40 years, this legendary flavor is now the 7th best-selling Backwoods flavor currently sold in the USA. To order this particular flavor, simply click the button below, choose your package size, and enjoy fast nationwide shipping! All orders placed here at Buy Pipe Tobacco are shipped the next business day and delivered in 1-3 days on average.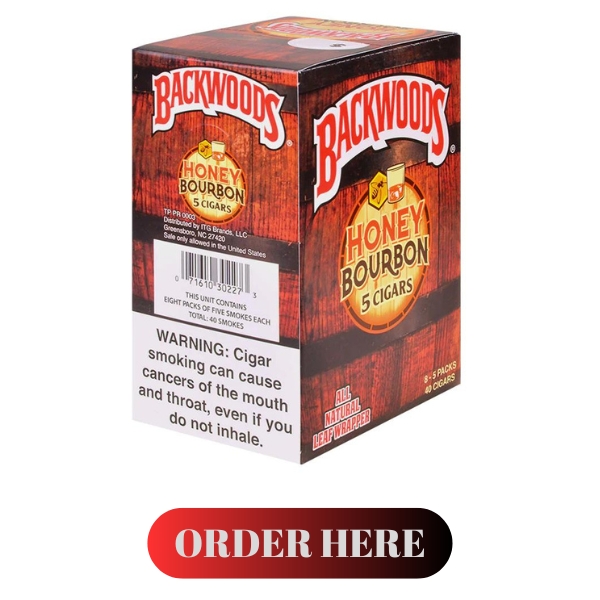 Grape Backwoods
Grape Backwoods Cigars are the latest sensation in the U.S. cigar market, and they're turning heads with their authentic grape aroma and top-grade tobacco. Available in an 8-pack box, each containing 5 cigars, you get a total of 40 cigars designed for a satisfying and smooth experience. With competitive pricing and fast 2-3 day shipping, these cigars are the perfect choice for those looking to try something new and exciting in their smoking routine.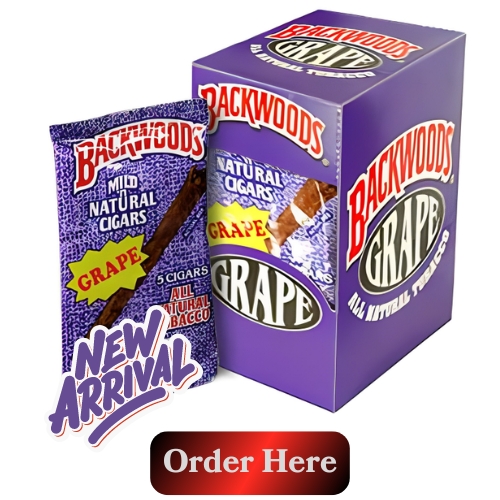 Other Popular Backwoods Flavors Available Today
At the time of this posting, there are 13 Backwoods flavors currently being sold in the US. In addition to the list above you can also order all these flavors here at Buy Pipe Tobacco as well.
Unfortunately, you will not find Grape Backwoods on the list, but we think they're going to hit the US market very soon! As of now, you can only buy them in Europe. From our understanding, they're extremely popular in the UK. However, just like Banana, Vanilla, & Wild Rum, they were all only available in Europe, but now they're here! Update: As of August 2023, Grape Backwoods cigars are now available in the US!
Banana Backwoods
Black Russian
Cognac XO
Dark Leaf
Dark Stout
Honey
Honey Berry
Honey Bourbon
Original
Russian Cream
Sweet Aromatic
Vanilla
Wild Rum
Above, are all 13 flavors currently sold in the US right now! If more are launched in the coming months, we'll definitely make sure to update our list today! On that note, if there is a flavor out there floating around out there that we didn't mention, please let us know! Other than that, what flavor of Backwoods would you like to see next? Let us know your answer in the comments below!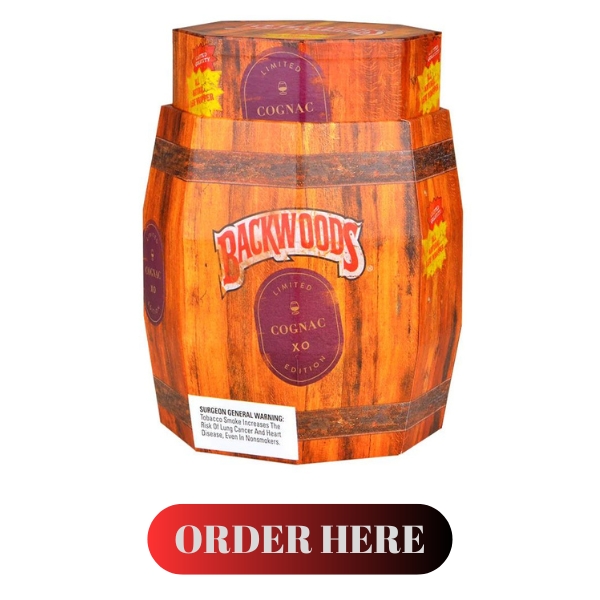 Purchasing Backwoods Flavors Online Simple And Secure
Wrapping up our post today on Backwoods flavors, we'd like to express our gratitude to all our readers! Your presence here proves our efforts in providing helpful, easily accessible content has paid off. So, if searched for 'Backwoods flavors' or anything related and it led you here, then we've done our job right!
Remember, our store offers a fast, easy, discreet, and secure shopping experience. By choosing to buy your Backwoods cigars from us, you're not only saving money with our below-national retail value pricing, but you'll also receive fresh products, guaranteed. Indeed, all of our tobacco products are housed in a state-of-the-art, temperature and humidity-controlled facility in Newport, Kentucky, our cigars reach you in prime condition, ready to be set on fire!
Unlike most online tobacco shops, we exist beyond the digital sphere. Yep, we're an actual smoke shop, open to the public for in-person shopping! However, let's be clear: we don't endorse smoking. As an adult, the choice is yours, but remember, you must be 21 or older to buy online. So if you're underage, we wish you well but can't welcome your patronage. Once of age, we'll be here, ready to serve. Until then, stay safe, and see you soon.