Exploring Everything About Game Leaf Cigars
Game Leaf, by Garcia y Vega, is a signature line of cigars renowned for offering a broad spectrum of flavors that cater to almost every type of smoker. The flavor profiles are as diverse as they are unique. From the connoisseur seeking something more natural to the experimental smoker driven by curiosity, Game Leaf cigars are sure to capture your attention! 
Indeed, the brand offers several unique flavors, 10 to be exact, and we're going to cover them all in today's post. We update our content often, so if something new comes out, we'll certainly make the changes to our list below to maintain relevance.
In the following sections, we'll dive deep into each flavor in more detail, offering a comprehensive guide to what you can expect from each Game Leaf variant. Plus, we'll reveal everything there's to know about this iconic brand including its history, flavors, and where you can buy them online for cheap! Hint: You're already here!

On that note, we'd like to think you for joining us today as we discuss everything about Game Leaf. Before you proceed, please note, you must be 21+ to buy tobacco online or anywhere else in the US. Also, we don't encourage or recommend smoking, but if you're grown, the decision is all yours to make! Let's get started, shall we?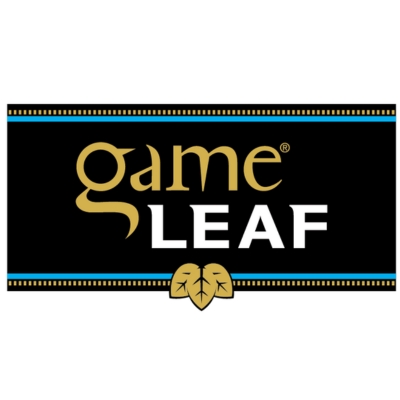 The Essence of Game Leaf Cigars: Quality and Craftsmanship
Game Leaf Cigars owe their rich, unique flavor profiles to a well-crafted blend of materials. The core of these cigars is high-quality Cuban-seed tobacco from the Caribbean basin, known for its robust and flavorful characteristics. This premium filler tobacco forms the primary taste base, setting the stage for a compelling smoking experience.
The structure of these cigars is maintained using a homogenized tobacco leaf binder, ensuring an even burn and smooth draw. They're enveloped in a natural Indonesian wrapper, which adds a mild, pleasing flavor and gives the cigars their distinctive natural look. With this blend, Game Leaf provides a harmonious balance of flavors, making every smoke a pleasurable one.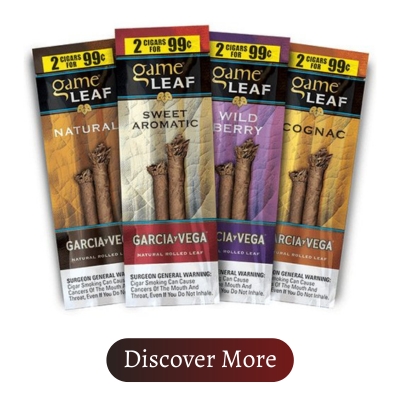 Discover All Game Leaf Flavors Here at Buy Pipe Tobacco
Now, for the moment y'all have been waiting for, it's time to discover all 10 flavors made by Game Leaf. Below, we'll list all the flavors and include a short description of each one. That way, you can easily choose which one suits you the best.
Crème is the newest flavor to hit the shelves; however, it's a limited edition flavor, so once they're gone, they're gone! So if you're looking to try the latest Game Leaf, then make sure you scoop up this flavor today, they're selling out super fast, nationwide!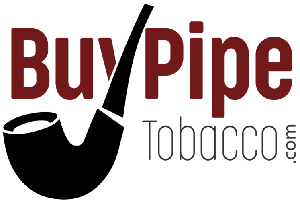 Game Leaf Creme
Experience the rich, creamy flavor of Game Leaf Creme cigars, a limited edition offering! Each puff delivers an unmatched flavor, making it a must-try for those who appreciate authenticity. Available in two package sizes, a 15-pack box with two cigars per pack, and an 8-pack box with five cigars per pack, for just a buck more! Click the image or button below to get it now – availability is limited! Enjoy.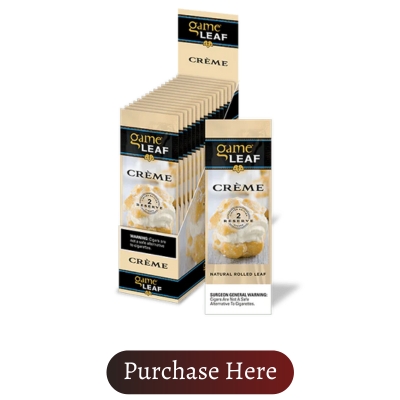 Game Leaf Dark Rum
Enjoy a combination of flavors with the limited-edition Game Leaf Dark Rum cigars. This elite offering from the brand's Reserve series boasts perfectly aged dark-leaf tobacco, delivering an unmatched smoking experience. Available in a 15-pack box (2 cigars/pack) and an 8-pack box (5 cigars/pack). You must act fast – the Dark Rum is only here for a limited time and they're selling out really fast.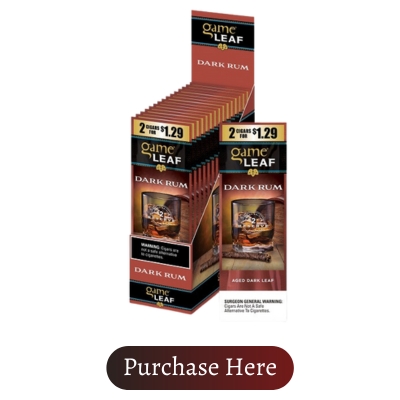 Game Leaf Tropical
Discover the exotic allure of Game Leaf Tropical cigars, a limited-edition release that has captured the attention of smokers, nationwide. Encased in finely aged tobacco leaves, these all-natural flavored cigars are worth every buck spent to get them! Available in two packages: 15-pack (2 cigars/pack) and 8-pack (5 cigars/pack). Give it a shot, your feedback could make it a permanent feature! Note to self – ladies love them!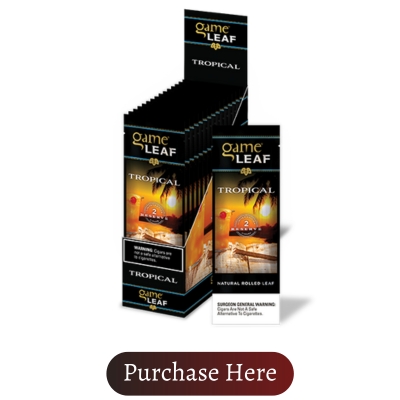 Game Leaf Dark
Delight in the depth of Game Leaf Dark cigars, crafted from tobacco aged over 12 months to achieve an unparalleled depth. Choose from a 15-pack box (30 cigars) or an 8-pack box (40 cigars) of this daily indulgence. Immerse yourself in the deep flavors with each puff and share the experience with friends, courtesy of Buy Pipe Tobacco!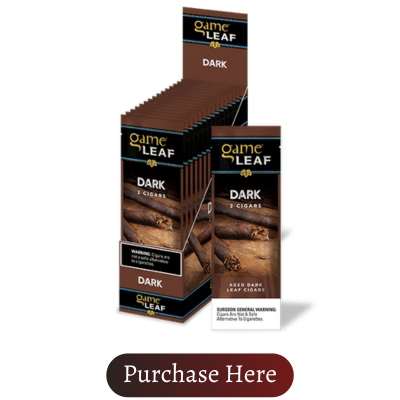 Game Leaf Cognac
Step into the world of authentic cigar smoking with Game Leaf Cognac. Encased in natural leaf tobacco, these cigars offer a premium, authentic flavor that won't be going away anytime soon! Available in two convenient package sizes, the 15-pack box and the 8-pack box! Scoop up a few boxes today, and never settle for less again!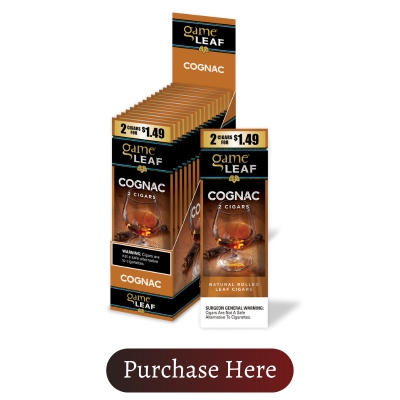 Game Leaf Natural
Embrace simplicity with Game Leaf Natural cigars, perfect for those who appreciate the untouched, premium taste of tobacco. With no added flavors, this Game variant is an ode to purity. Choose from our two package options, the 15-pack or 8-pack box, and enjoy the essence of natural-tasting cigars just the way you love!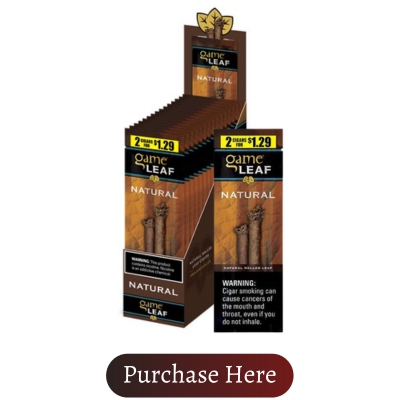 Game Leaf Pineapple
Welcome the tropics with Game Leaf Pineapple cigars! A delightful blend of premium tobacco with a splash of pineapple offers a unique and refreshing smoking experience, enjoyable any time of the day! Available in two package sizes, this flavor will surely bring a warm, authentic summer twist to your cigar collection.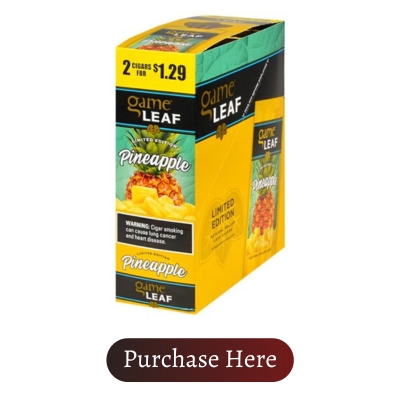 Game Leaf Sweet
Add some sweetness to your smoke life with Game Leaf Sweet cigars. These cigarillos are made with high-quality tobacco with a hint of sweetness. Plus they're smooth and slow burning just the way you like! As with all the flavors, the sweets come in two pack options, the 15-pack box, and the 8-pack box!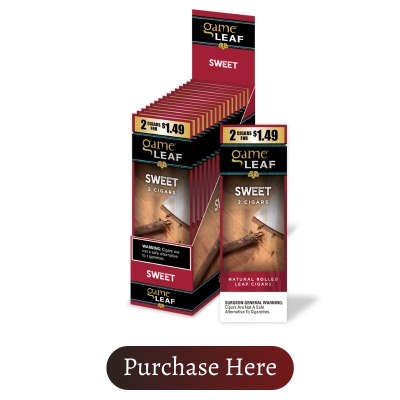 Game Leaf White Russian
Experience the fusion of cultures with Game Leaf White Russian cigars where premium tobacco is combined with hints of a classic White Russian cocktail; creating a unique and cosmopolitan smoking experience! Available in two package sizes, this flavor will surely leave you craving for more, so don't be shy, stock up on your supply today, and never go without.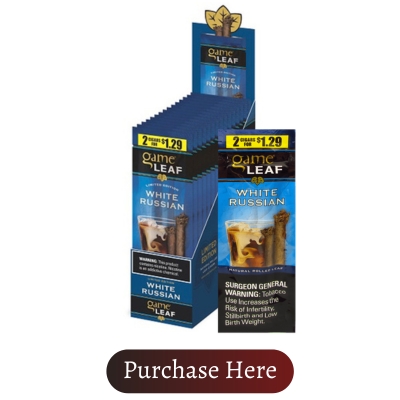 Game Leaf Wild Berry
Presenting Game Leaf Wild Berry cigars, a natural leaf-wrapped cigarillo that combines a rustic touch with a smooth, subtly sweet flavor profile. These delightful cigars are perfect for those brief moments on a busy day! Best of all, they also come in two package sizes! So don't hesitate, to buy a few boxes today, nationwide shipping is available!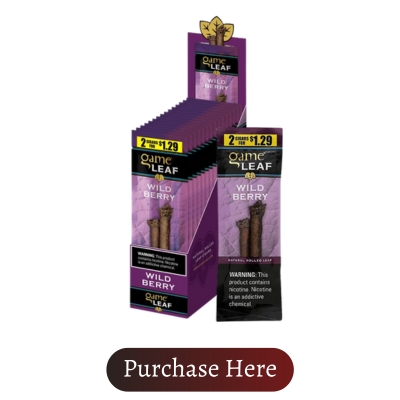 Buying Game Leaf Cigars at Buy Pipe Tobacco Made Easy
Our aim today was to guide you through the wide array of Game Leaf flavors available for online purchase. We trust you now have a comprehensive understanding of these uniquely flavored cigars and where to buy them, which of course, is right here at Buy Pipe Tobacco!
That said; we've simplified the process of ordering cigars online – no waiting, no driving, no standing in lines. With every flavor available at your fingertips, convenience meets variety. Plus, our unbeatable prices mean you're getting the highest quality at the best prices.
Moreover, we ensure top-notch quality by storing all our tobacco products in our new, state-of-the-art temperature and humidity-controlled environment, guaranteeing the freshest cigars for your enjoyment. Also, fast shipping is our forte, with most orders arriving in just 1-3 business days!
Lastly, we appreciate the time you've spent with us today and hope you found this guide both useful and enlightening. As a community at Buy Pipe Tobacco, we value your input. Please feel free to share your thoughts or experiences with these cigars in the comment section below. Your feedback is priceless to us and our readers!