Your Next Bag Of Pipe Tobacco Made Easy
If you've been looking to save a ton of cash on smokes without cutting back, then, we're here to help you make that happen! Indeed, with RYO Pipe Tobacco you could literally save thousands of dollars every year!
As many are now discovering, you don't need a pipe to smoke these types of tobacco blends. In fact, we don't even recommend smoking these brands in a pipe, so our Top 10 will strictly focus on those who are looking to or who already roll their own cigarettes from home, with an electric cigarette rolling machine, of course!
As for all you seasoned smokers out there who already roll their own smoke, our list is also for you. With so many different options and opinions out there, we know how hard it is to find the right brands worth trying!
That said, we hope that this article will help narrow down the picks. As smokers ourselves, we have a long-standing history in the business and have partnerships with retailers from the heart of the tobacco country, so we know a thing or two about RYO Pipe Tobacco.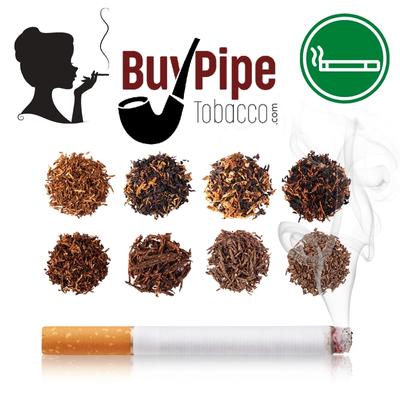 Choosing the Right Pipe Tobacco Brand for RYO Cigarettes
With so many brands on the market today, it's sort of difficult to choose the right brand. In fact, most of us just guess and go with our preferred flavor, which doesn't always end well, as many of you may know!
So if you're looking to roll your own cigarettes, then we don't recommend the following brands: Backwoods Pipe Tobacco, Borkum Riff, Captain Black, Carter Hill, Five Brothers, Half and Half, Middletons Cherry, Paladin, Super Value, Prince Albert, and Velvet.
All of the brands mentioned above are for pipes only and not advised for RYO cigarettes! Other than that, you'll find several unique brands out there, but if you always check back with our list here at Buy Pipe Tobacco, then you will find the best RYO Pipe Tobacco brands at the best prices online and off, guaranteed.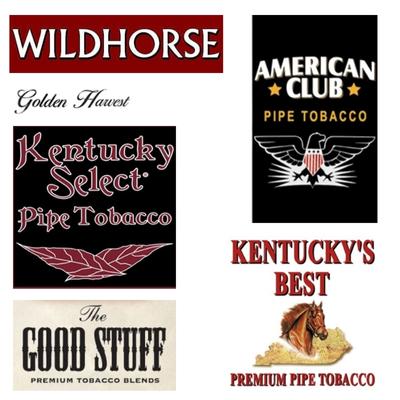 Switching To RYO Pipe Tobacco Will Save You This Much Money
Now for the information that a lot of people don't want you to know… And that's how much money you could be saving by switching to RYO Pipe Tobacco! That said, we're going to break down the math for you, and then based on how much a pack of smokes costs where you live, you can determine how much money you could be saving!
First and foremost, pipe tobacco is the same tobacco found in cigarettes, just without all the extra harmful chemicals. This is why it's not heavily regulated and taxed. You can buy pipe tobacco online and have it shipped to your house, the same with cigars, which are also made with the same all-natural tobacco and available for online purchase!
However, in terms of tobacco and nicotine, pipe tobacco is straight-up tobacco, so you get good clean tobacco and natural nicotine, making it just as satisfying as any cigarette, even more! You can also find American Blend or Turkish Blend, just the same as you can with so-called traditional brands, we won't say any names, but you know who!
Regarding the cost, a 1lb bag of RYO pipe tobacco generally goes for about $15 online. A 200-count box of empty cigarette tubes costs about $2.50 on average, you'll need 3 boxes per pound. Based on those accurate figures, you can electronically roll up to 600 class-A cigarettes for under $25 dollars! That's 3 cartons (30 packs) of cigarettes for less than $25!
On that note, we'll let you figure out how much you spend on cigarettes based on the state where you live and from there you should be able to determine how much money you could be saving by switching to RYO Pipe Tobacco! Let's get deeper, shall we?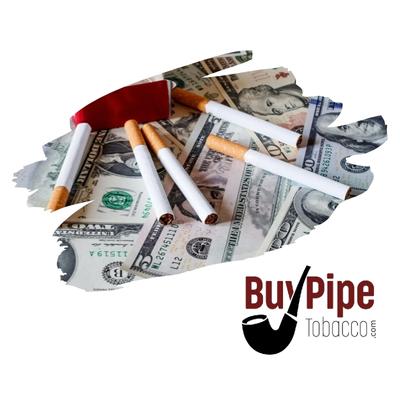 Seal the Deal with a Powermatic Electric Cigarette Rolling Machine
There are a few electric cigarette rolling machine brands on the market today; however, we totally recommend Powermatic! Not only are they affordable, but they're also durable, reliable, built tough, and made to last for several years!
In our opinion, we think the Powermatic 3 Plus and the Powermatic 4 are the top 2 best electric cigarette injectors available. The PM3+ is a little more expensive and keeps track of your rolling count, but if that's not important to you, then the PM4 is the best option in terms of quality and price!
The process of using this machine to RYO smokes is very easy! All you have to do is fill the hopper with tobacco, slide on an empty cigarette tube, release a little tobacco from the hopper into the chamber, and pull the lever down! After that, you will have a freshly made RYO cigarette waiting to be fired up!
On average, it takes about 5 minutes to roll 20 cigarettes! For most people, that's a lot faster than going to the store and back. So not only will you save money by switching to pipe tobacco, but you'll also save a load of time as well.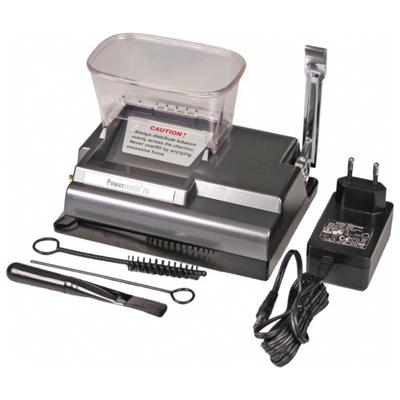 Our Top 10 RYO Pipe Tobacco Picks
Now that you know how much money and time you could be saving, the moment has arrived to pick your brand and flavor! Below are our top picks here at Buy Pipe Tobacco, you may agree or disagree, but from our experience, these are the brands we recommend.
Granted, there are many others worth mentioning, but we can't say 100% for sure because our experience points to other brands. So without further ado, let's explore all the major RYO pipe tobacco brands available online.

One last thing, we do not recommend smoking, so if you don't smoke already, then please get the hell out of here and never look back! The same goes for anyone here under 21. Our recommendations are for adult smokers located in the US only. Thanks!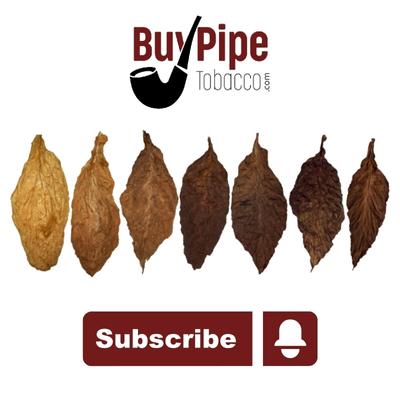 1. The Good Stuff Tobacco
Made in North Carolina by Privateer Tobacco, The Good Stuff is our top pick above them all. We thought about saving the best for last but then decided to give it to you straight up front.
Yes, some of you may disagree, and others may have their own preferred brand, but from our personal experience in this business and as smokers, this is by far the #1 best RYO pipe tobacco brand available for online purchase!
Cultivated in the heart of tobacco country, this good stuff is available in Gold, Menthol Gold, Menthol, Natural, Red (full-flavor), and Silver. Also, you can score this brand in 6oz or 1lb bags, your choice!
Created with premium US-grown Kentucky Burley and the world's best Virginia flue-cured tobacco, it's easy to see where this brand gets its iconic name from; it truly is the Good Stuff! Best of all, we ship nationwide!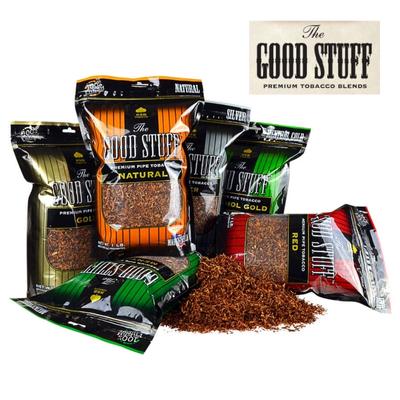 2. American Club Tobacco
American Club Tobacco is without dispute, the second-best RYO cigarette brand on the market. Proudly made in the United States, each bag delivers fresh, all-natural tobacco from premium burley and flue-cured tobacco.

Furthermore, this brand does something no other brand does; they use a heating process that expands the tobacco volume by 33% per bag! Available in Smooth (Blue), Menthol (Green), and Full-Flavor (Red), all flavors come in a strong resealable bag.
Sizes include 1lb and 6oz, both ship nationwide! In terms of affordability, American Club by the pound is so cheap it's almost free! Try it out and let us know what you think!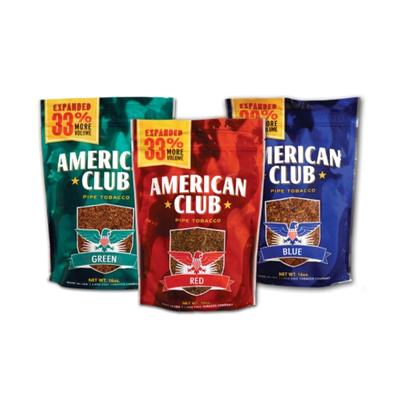 3. Criss Cross Tobacco
Criss Cross Pipe Tobacco may be affordable, but it's definitely not cheap in terms of quality! Made with premium-quality burley and bright flue-cured tobacco, this fine blend is produced in the south by true US tobacco farmers!
Available in Menthol, Original, Smooth, Smooth Menthol, and Ultra Smooth, each flavor comes in a 16oz bag or 6oz pouch, your call. They also make Criss Cross Virginia Blend as well, all the same flavors above, plus they have 3oz and 8oz pouches along with the big 1lb bag.
To give Criss Cross a try, click the image or the button below to be redirected to our product page here at buypipetobacco.com. From there, select your flavor, let us know where to ship it, and leave the rest to us! Discover more…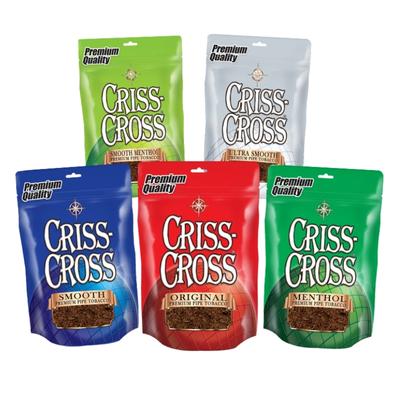 4. OHM Pipe Tobacco
Crafted for sophisticated smokers who appreciate high-quality tobacco and an affordable price! Grown by American farmers, OHM Pipe Tobacco is indeed one of the best-selling RYO tobacco brands on the market. Sealed in a 'Fresh-loc' bag, your tobacco will be fresh when you're ready to roll.
You can now purchase OHM in 6oz, 8oz, and 1lb resealable bags. Plus, this brand offers original flavors such as Smooth (Blue), Bold (Full-Flavor), Extra Bold, Menthol, Mild Mint, Natural, & Silver. All flavors are available and ship nationwide!
Additionally, OHM offers Turkish Red and Turkish Yellow in all the same-sized bags mentioned above. So regardless if you prefer an American blend or Turkish, this brand has you covered.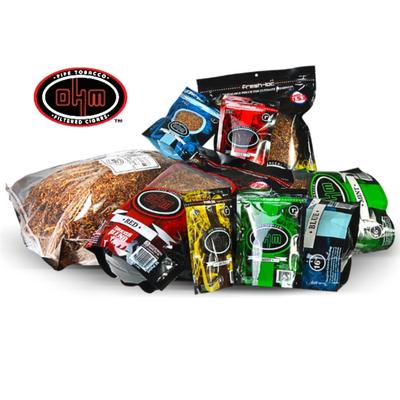 5. Gambler Pipe Tobacco
As the author of this list, I'm going to speak to you guys directly now! Yes, Gambler Pipe Tobacco is popular! In fact, it's one of the most sought-after brands on the market today, and that's why it's featured here on our Top 10 list.

However, I personally don't like the taste and flavor of this particular tobacco. Nonetheless, it's our 5th best-selling pipe tobacco brand, so somebody obviously loves this brand.
Gambler has a recognizable name that dates back several decades, which means amateurs may select this brand because the name rings bells, but I'm here to warn you, smoke at your own risk! If you disagree, please sound off below, we want to hear your opinion!
Again, this is just my opinion, I also prefer and smoke the Good Stuff, but people like what they like, Gambler isn't it for me, but if this is your stuff, then enjoy it, my friend, I salute you!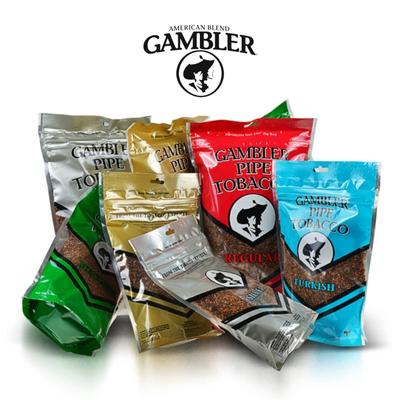 6. Kentucky Select Tobacco
Made with a well-balanced blend of Virginia and Kentucky Burley tobacco, Kentucky Select is definitely one of our favorite brands here at Buy Pipe Tobacco! In terms of quality, this tobacco is rich, premium-tasting, and 100% satisfying!
Kentucky Select comes in all original flavors including Gold, Mint, Green Mint, Full-Flavor, and Silver. This brand is also available in 6oz and 16oz resealable bags. So if you're looking for top-notch pipe tobacco that's affordable, then we totally recommend Kentucky Select.

Unfortunately, Kentucky Select is not an easy find around the country, UNTIL NOW! That's right; we already know how many people enjoy this brand, so it would just be crazy on our part if we didn't have any available! Click the button below to view all flavors, bag sizes, and prices.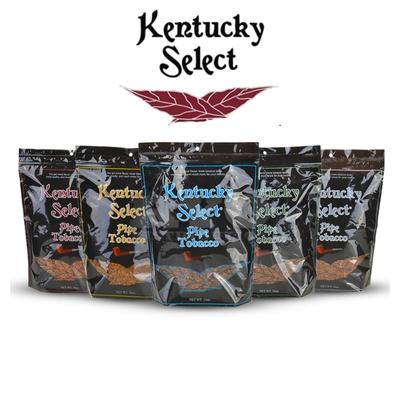 7. Smokin' G Tobacco
Sadly, this amazing pipe tobacco brand doesn't get much shine! However, we hope to change that a little because Smokin' G is indeed our 7th best-seller here at Buy Pipe Tobacco!

In fact, most people have never heard of this brand until stumbling across it here. Nonetheless, we continue to sell Smokin' G every day! In other words, people are buying and then returning! Remember, this brand is not an easy find.
Available in several unique options, you can score Smokin' G Tobacco in rare flavors such as Freedom Pure Blend, Fresh Mint, Robust Red, Robust Blue, Robust Copper, Smooth Gold, Smooth Platinum, Turkish Mellow, & Turkish Straight Blend. All flavors come in 8oz resealable bags only. Ships nationwide!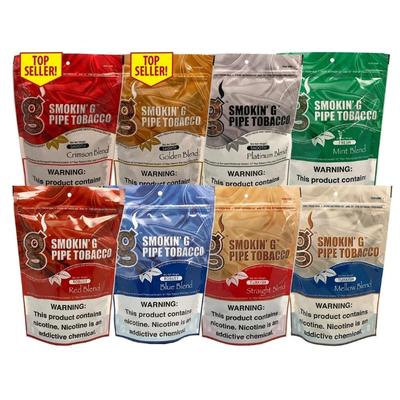 8. Golden Harvest Tobacco
Proudly made in North Carolina, Golden Harvest Tobacco is a premium, all-American brand that prides itself on quality and affordability! As our 8th best-selling pipe tobacco brand, we can definitely say that GH is just as superior as all the other brands mentioned in our list.
At Buy Pipe Tobacco, we carry all package sizes of GH from 6oz, 16oz, and 12-count boxes of 1oz pouches. We also offer all flavors from Smooth, Menthol, Regular, Silver, and Natural. Best of all, you can purchase this brand online and have it shipped directly to your front door.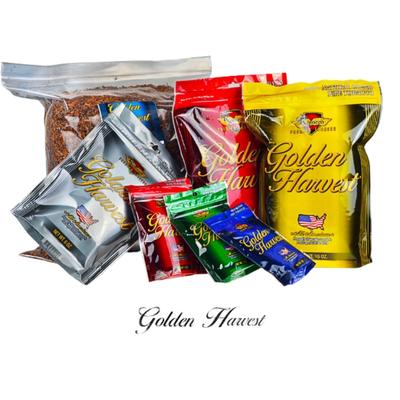 9. Kentucky's Best Tobacco
Kentucky's Best Tobacco is by far, one of the most underrated pipe tobacco brands on the market. Like several of the best-sellers on our list, this tobacco isn't an easy find. Unavailable in most shops, Kentucky's Best is ALWAYS available at our online smoke shop!
In addition to availability, we also carry all flavors including Smooth, Menthol, Natural, and of course, Original. We also offer 6oz and 1lb resealable bags as well. So if you're looking for an authentic smoking experience that is both rich and satisfying, then ditch your current brand and give Kentucky Select a try!
Not only will you be smoking better tobacco, but you'll also be saving a ton of cash at the same time! Order now and experience the difference!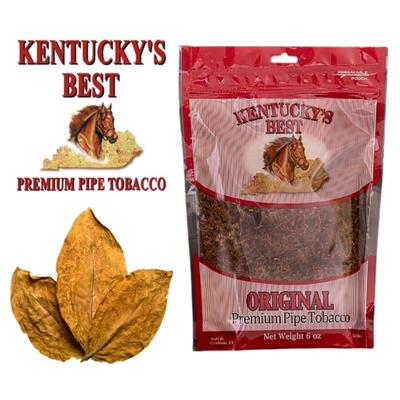 10. Wildhorse Tobacco
Last up on our list is Wildhorse Tobacco! A true, all-American product grown by US farmers, this RYO brand is quickly gaining traction among smokers nationwide. Not only is growing in terms of popularity, but it's also one of our top sellers here at Buy Pipe Tobacco!

According to the reviews, most people who try WH for the first time never change their brand again! So after trying Wholdhorse for ourselves, we quickly understood what all the hype was about. It's true, this is some good RYO tobacco! Indeed, it burns well, tastes great, and is 100% satisfying! Available in Smooth, Menthol, and Full-Flavor. Give it a try and let us know your thoughts in the comment section down below!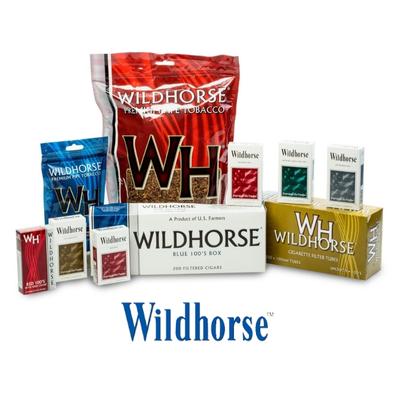 Where to Buy Pipe Tobacco
Buying pipe tobacco and cigars online is easy, affordable, and really convenient, especially if you live outside of a major city. That said, you have a few credible online smoke shops that you can select from; although we do recommend our store above all, and here's why…

First, we're an all-American family-owned smoke shop located in Newport, Kentucky. Not only do we just sell tobacco online, but we also sell it in person as well. Yup, at BPT, we have an open door policy and welcome the public to stop by and see us any time Monday through Friday, 8 AM to 5 PM.
Second, all of our tobacco and cigar products are stored in a regulated temperature and humidity-controlled warehouse; so freshness is something we can guarantee! Plus, we offer top-notch customer service available in person, by phone, email, or on Facebook Messenger.
Lastly, we offer the best prices online! Not to mention, we offer a lot more tobacco options than most local smoke shops, and we're always priced a few dollars less as well. So when it comes to affordability, it's clear that we're the cheapest.